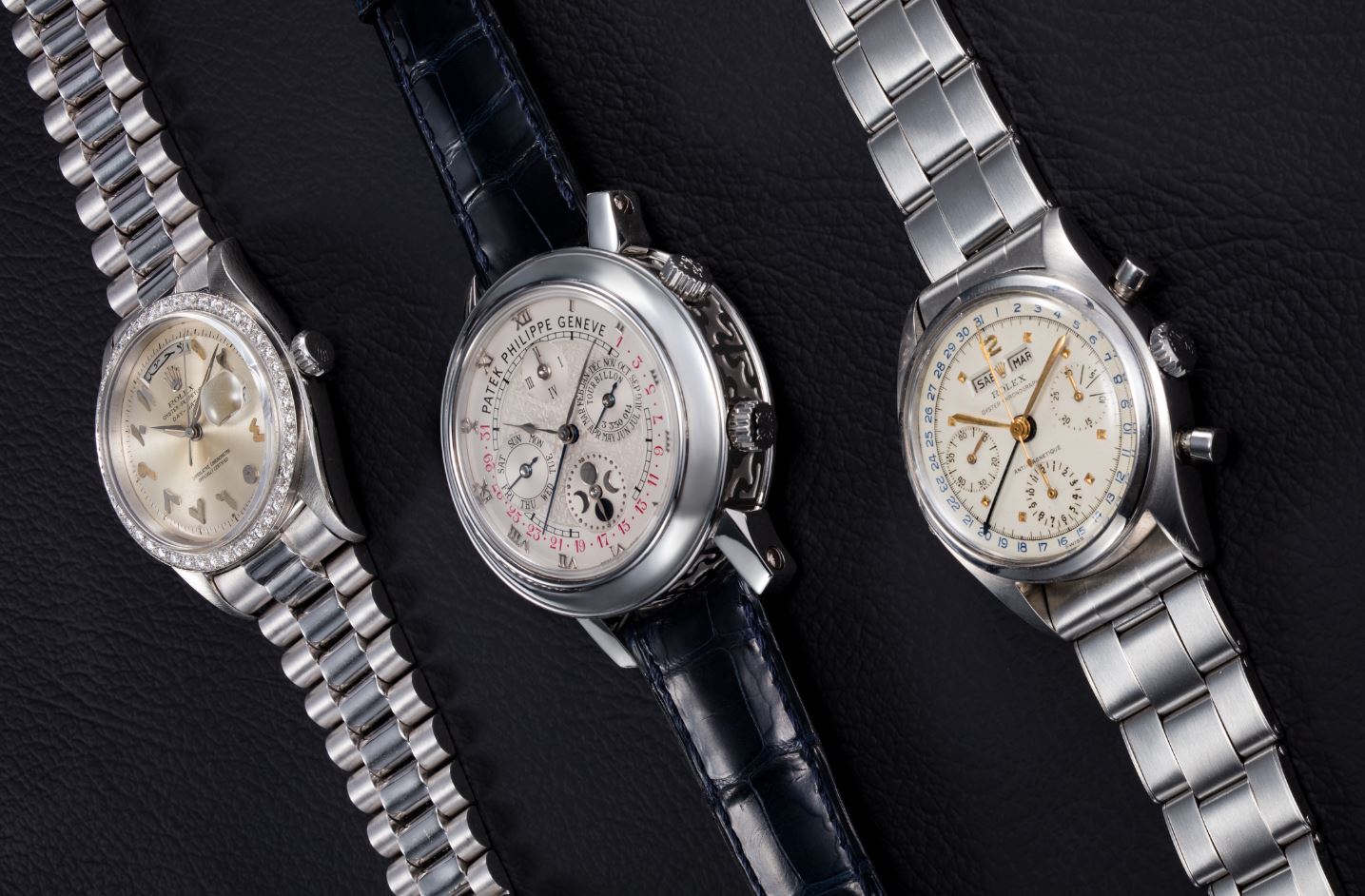 First-ever global 100% online watch auction to potentially exceed
USD 10 million from Dubai:
Never before has a digital auction from the region brought together so many timepieces of such importance and value. Live online from 24 Marchh to 8 April 8, 2021.
The Dubai-based team of experts has curated close to 200 lots of rare and coveted timepieces
for an estimated total ranging from USD 9,000,000 to 15,000,000
Highlights include the Patek Philippe Sky Moon Tourbillon reference 5002 in platinum, as well as two others exceptional Patek Philippe timepieces, both of which possibly have unique dials:
the reference 5004R with a ruby indexes and the reference 3990P with a light grey dial.
Dubai Edit goes live today, the sector's most important global online-only auction to date. The team of experts at Christie's in Dubai have curated close to 200 lots which together are estimated to fetch from USD 9,000,000 to 15,000,000. The auction is restricted to a timeframe of 16 days in which registered bidders will be able to track specific lots and interact directly with the Christie's platform.
PATEK PHILIPPE POISED TO ACHIEVE NEW HEIGHTS
Highlights include the exceptionally rare Ref. 5002P Sky Moon Tourbillon in platinum (est. USD 1,000,000-1,800,000), which was not only the most complicated watch produced by Patek Philippe at the time, but also the first ever double-faced wristwatch in the Geneva manufacturer's history – and is sure to elicit keen interest on the part of discerning collectors from around the globe.
Two other exceptional Patek Philippe timepieces will also be presented during this auction, both of which possibly have unique dials: the Ref. 3990P with a light grey dial and the Ref. 5004R with a ruby dial. They are joined by a selection of exceptional minute repeaters of the same marque, such as the Ref. 5074P minute repeater perpetual calendar (est. USD 400,000-700,000), the imposing Ref. 5014P semi-skeletonised minute repeater perpetual calendar (est. USD 400,000-600,000), and the elusive pink gold Ref. 5029 minute repeater (est. USD 250,000-350,000) made in 10 pieces per metal (yellow gold, pink gold, white gold and platinum) to commemorate the anniversary of the manufacture in 1997. The Ref. 5071P and the Ref. 5971P lead the impressive selection of highly collectible baguette diamond-set watches that are certain to draw international attention.
ROLEX REIGNS
Among the vintage Rolex watches highest on the desirability index, an extremely well-preserved Rolex Dato-Compax Ref. 6036, produced circa 1952 (est. USD 100,000-180,000). 'Collectible Tool Watches' include a Rolex Submariner Ref. 5510 "Big Crown" (USD 125,000-200,000), a Rolex Sea-Dweller Ref. 1665 "Patent Pending" (USD 90,000-120,000), and a rare Rolex Ref. 3525 chronograph in astonishing condition (USD 150,000-300,000).
INDEPENDENT WATCHMAKERS SPIKING UP
Trends on point, the team has curated a selection of 7 F.P. Journe watches, including 3 platinum timepieces from before 2004, particularly coveted and recognisable by their rhodium-plated brass movements: Resonance (est. USD 150,000-250,000), Zodiac, of which only 150 pieces were made, (USD 100,000-150,000) and Octa Automatique with an elegant pink dial (USD 100,000-150,000). These have all seen a sharp rise in value over the past 12 months alone.
MINUTE REPEATERS DRAW ATTENTION
In addition to the four Patek Philippe minute repeaters, the auction will also feature 3 examples of Grande Complication, and what was at the time among the most complicated and expensive wristwatches in the world: the Gerald Genta Grande Sonnerie and Petite Sonnerie timepieces made in 1994 to commemorate the 25th anniversary of the Manufacture.
DAZZLING JEWELLERY WATCHES
Also on offer is an exotic set of six medium-sized Audemars Piguet Royal Oak jewellery watches and a unique diamond, ruby, sapphire and emerald-set brooch in white gold indicating three time zones (London, Mecca, and Brunei).
MADE FOR THE MIDDLE EAST
Watches with regional relevance will also be presented. The selection features vintage Rolex Day-Date Ref. 1804 models with Eastern Arabic numerals (also called Hindi numerals) or featuring the official crests of regional royalty or armed forces. Prominent timepieces by independent watchmakers with a strong link to the UAE include MB&F LM1 M.A.D. Dubai limited edition and Richard Mille RM 010 MBZ Abu Dhabi Grand Prix edition.