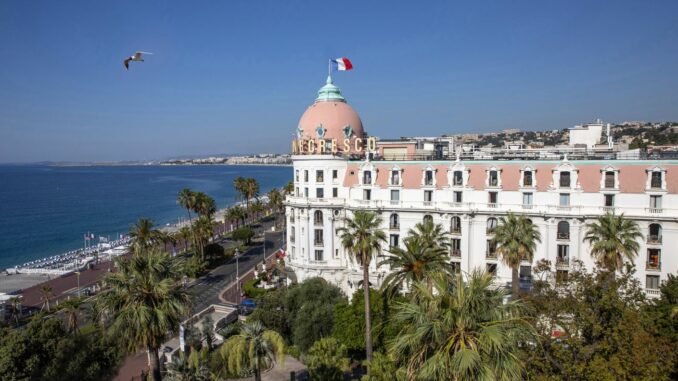 Le Negresco enlisted the talents of Patrick Saussay, the international expert specialising in designing unique Spas. Together, they began writing a new chapter in the hotel's history, finding their inspiration in Le Negresco's rich heritage and infusing it with a resolutely modern aesthetic. What do guests seek? A unique experience, an intense sensation before the breath-taking feeling of complete disconnection from everyday life. Here, the guest is approached from every angle: physical, emotional and psychological. Our accomplices and partners have shaped the Spa's atmosphere and spaces to create an exceptional narrative.
N Le Spa is all about lyricism. Perhaps because all our senses are blissfully stimulated…
It's akin to the emotion we experience when admiring a work of art. Art in its noblest form, exploration that piques the curiosity, contemplation that stirs the soul, immersion in the artist's universe that transports us back to our innermost essence. The N Le Spa concept revolves around a strong theme based around three fundamental elements: discovery, contemplation and immersion: A celebration of art in all its forms and states.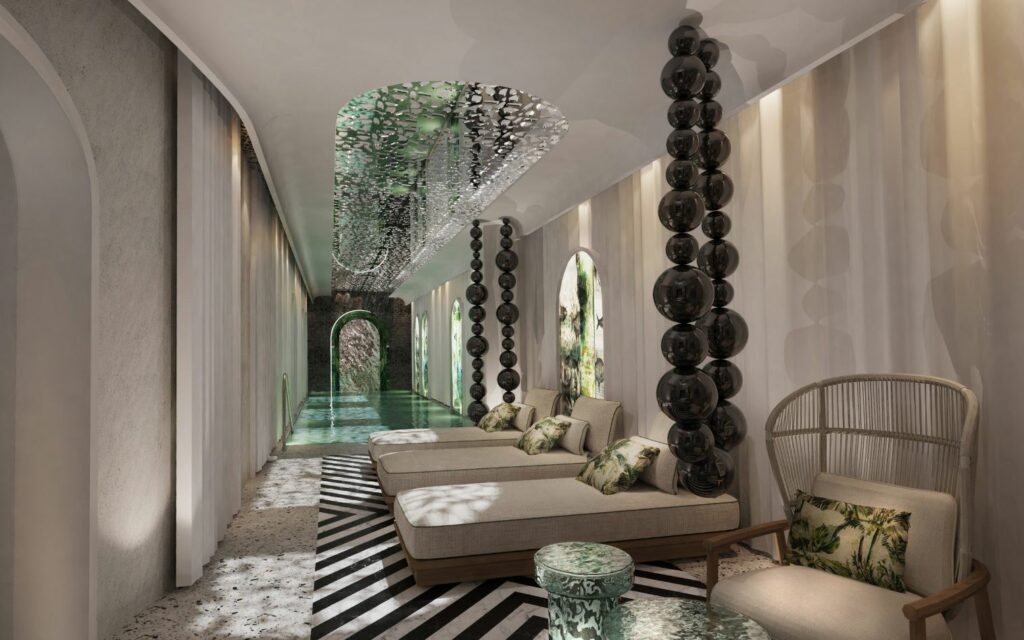 N Le Spa invites holidaying aesthetes and people from Nice to indulge in a relaxing experience based on three fundamental dimensions: all-round well-being, inner balance, and the enhancement of beauty. These facets are interlaced to provide a narrative that adds a powerful dimension to the experience, enriching both body and soul.
Adjacent to the legendary Salon Royal, this sanctuary, which is also accessible from the Rue de Rivoli, boasts 700m² of floor area where fluid curves and lines flow seamlessly under the gaze of architect Jean Philippe Nuel. Rather than recreating a particular period, he creates a dialogue between heritage and modernity. "Heritage means understanding a place, its soul, and its spirit, to ensure that a project conveys meaning and contributes to the hotel's unique identity," he says. Everything is structured around the same intention. Strolling around, contemplating sculptures and artworks from the hotel's collection, before finally winding down. Cornices and mouldings adorn the ceilings, highlighting the stratification of eras. Exclusive, to say the least. The building materials were chosen to reflect the very best in craftsmanship and expertise. Carrara marble, Nero Marquina marble, porcelain stoneware, liquidambar wood, oak parquet flooring, and designer fabrics provide the backdrop to a boudoir, a barber shop, and seven treatment rooms. Nestled in a private haven, the 100 m² private Écrin Spa is a celebration of well-being in all its glory. The range of treatments includes treatments for two, sensory baths, steam rooms, saunas, and culinary treats to savour.
The pool is flooded with light as gentle melodies play at the bottom of the pool. Being able to (re)find oneself also means being (re)centred. In a contemplative atmosphere, yoga becomes immersive. A worldwide innovation made possible by digital art, in which every movement, every sound, and every breath leads to inner peace and balance. This introspective journey awakens the senses and the imagination meditatively.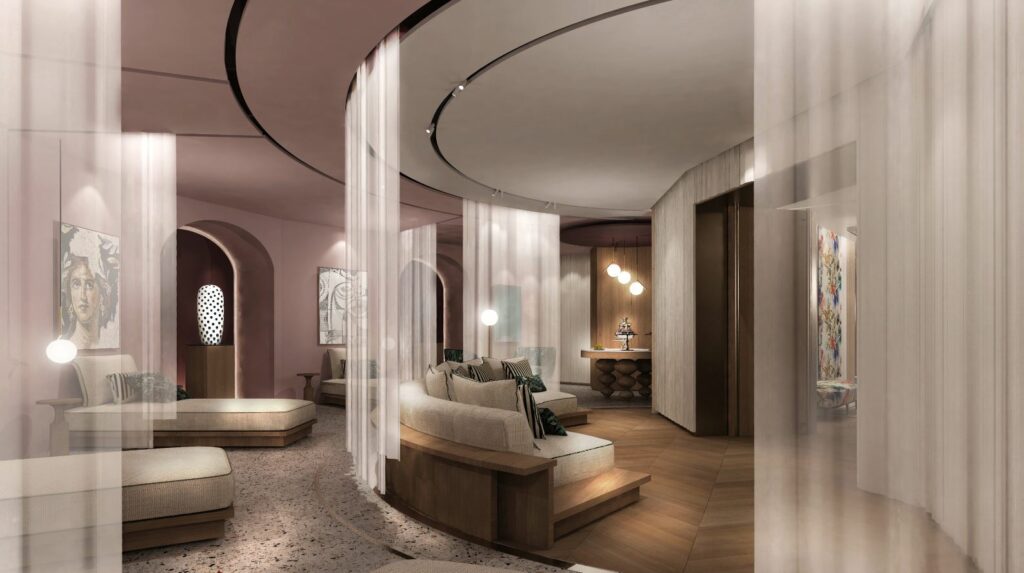 Le Negresco cherishes family histories and traditional French craftsmanship and strongly believes in the importance of ethics. This is especially true when it comes to inviting leading cosmetics brands into the hotel. These partner brands were not randomly selected. Each in their own fields of expertise, they are all dedicated to accompanying guests on their journey towards a more natural, sensorial, and effective skin care experience. In total, there are four face and body care brands, one perfumery label, and one make-up brand associated with N Le Spa.
In the treatment rooms, every detail has been considered holistically, including targeted programmes for improved skin-aging, facial and body treatments incorporating precious active ingredients, based on the protocols of Olivier Claire, an expert in rare synergies, and the Vinésime brand, best-known for its use of active ingredients derived from Burgundy vines. To complete this indulgent experience, celebrated MICHELIN-starred chef Virginie Basselot invites guests to sample her culinary creations and herbal teas in the relaxation area.
In the boudoir and in the barber shop, La Maison Codage, reputed for its expertise in skin diagnosis, offers personalised treatments and tailor-made serums to suit each individual skin type, in the specially equipped laboratory located at the entrance of the Spa.
The history of Le Negresco has long honoured artists and talent, a deep-rooted tradition dating back to the era of Madame Augier. Today, this vision is perpetuated by the ephemeral focus on select brands. CHO Nature will be opening the show, presenting its visitors with ultra-natural formulas, produced uncompromisingly in its Grasse laboratory.
Not far from the cradle of the perfume industry, Saint-Paul de Vence exudes a sweet perfume of rebirth. This is not only a haven for artists, but also the home of Maison Godet, a fragrance house founded in the 1920s and revived under the impetus of the creator's descendant, Sonia Godet. The eponymous house is a celebration of art, from the bottle to the scent. N Le Spa presents new creations and reissued classics, such as Folie bleue, a fragrance worn by Henri Matisse's muse, Henriette Darricarrère.
To bring the experience to a beautiful close, the make-up collection Le Rouge Français, with its organic and vegan pigments, sublimates the beauty of every. Here again, there's art in every detail…