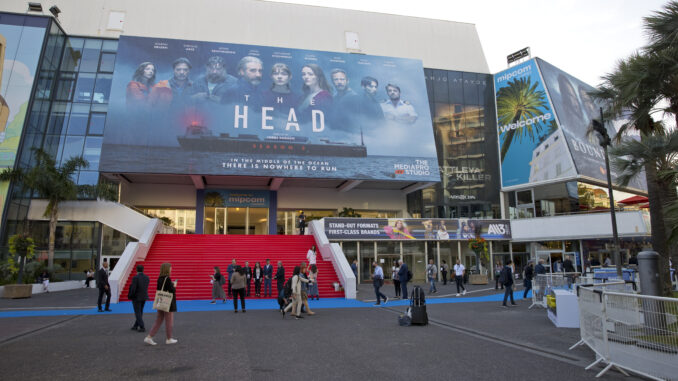 So, today is the opportunity give you the final update, look ahead to 2023 and to say a big thank you for the many stories over the last few days and leading up to the market…
Our ambition for MIPCOM CANNES was to come back with a bang and be true to the billing as 'The Mother of All Entertainment Content Markets'. And we have delivered that big annual global market to the industry after what's been a long 3 years for some, and certainly a different experience for all of us.
We've been reinventing ourselves over these few years, and always aim to reflect the needs and trends of our ever-evolving, creative, fast moving, and fantastic, content industry.
Such as introducing the Seaview Producers Hub…
Let's not forget this was exhibition space previously, which we chose to transform to meet a market need – and it was so much fun to design and plan.
So, it's been simply amazing to see standing room only for the sessions focusing on co-production and financing in all its forms.
And now, let's look at a bit of context, through the numbers…
Going into the market, we had to make a call about three months ago and estimated 10,000 delegates. I'm really proud to say that, as of today, that number has hit, as of last night 10,896…(so we may hit 11 by end of today).
And you saw the lines for collecting badges! It was great to see so many arriving from around the world getting in from early on Sunday ready to go. I was there and it was brilliant to see.
We'd been predicting 100 countries, and 108 countries came…A truly unique international show.
These included 3100 buyers, with the biggest numbers coming from the US, followed by the UK, France, Germany and Spain, and comprised of global and regional streamers, AVOD platforms and broadcast channels from every corner of the globe.
The number of individual stands came to 321, but let's take a pause because 'stand' is a broad term…We're talking about tents, double deckers (such as Banijay's out front), from a small structure to 100s of square metres, indoor, outdoor, beachside (look at Paramount's new home and Fremantle's party on the beach)
And we've seen big companies move into new homes such as BBC Studios and Disney.
Nowhere else do the Studios do this, they bring Hollywood to Cannes.
And talking about Hollywood what about those unforgettable moments such as Emily Blunt immortalising her hands for the walkway of fame here in Cannes, the red carpet capital -All3Media International were beyond thrilled, as were we.
And I'm delighted that MIPJUNIOR, which got us off to a flying start over the weekend, also surpassed all expectations with 1311 delegates
As we all know, the kid's community is one of the most dynamic in the industry and I've just come out from an advisory session where the takeaway was 2 days isn't enough – and they confirmed that after 3 years that MIPJUNIOR and MIPCOM is the unmissable event for them in the calendar.
One last thought on this market before we move to next year.
If you've missed any of the keynotes, do try and catch up online. For me, they encapsulate why MIPCOM CANNES is more relevant than ever.
Fox Entertainment Global's Fernando Szew and Rob Wade, both new to their roles, said it on day one – we are open for business…..
Over the last couple of years, the importance of the markets has sometimes been questioned – because who'd would have rights to sell?
Well look, it's back. One size doesn't fit all. Studios are saying to the world 'come talk to us' we're open for business…