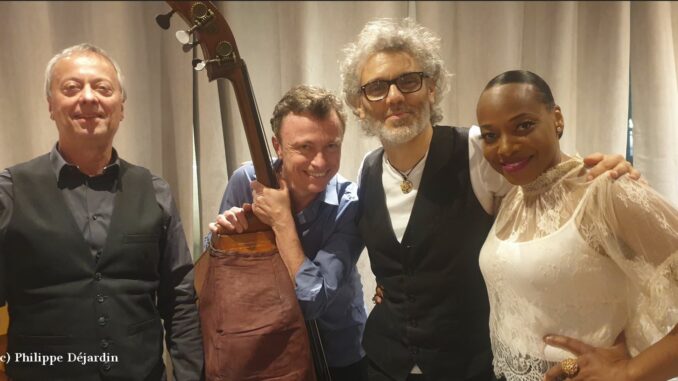 It is only in July 2021 that she will make her first concert in a festival,
that of the 40th anniversary of the Saint Raph'Jazz Festival.
Her first tour in April 2022, on the Côte d'Azur, accompanied by her
Nice-based musicians from the Spirale Trio enjoyed great success. The Media Coverage
was totally surprising by its importance for an independent American artist that few people knew about.
A new premiere, the summer tour in July starts with the
symbolic opening at the Note Bleue de Monaco (13/07), before going to celebrate the 10th anniversary
of the prestigious "Les Musicales dans les Vignes" festival.
She will meet the public in the largest wine estates of
Provence: 07/15 at the Domaine des Féraud (83 Vidauban), 07/16 Château de
Sannes (84 Sannes) & 19/07 at Château Gassier (13 Puyloubier).
The repertoire will be her adaptations of American standards even if her
latest album "Better Angels" contains only compositions, apart from a
remarkable arrangement in a homage to Charles Aznavour with "La Bohême"
in French and English.
And here again the Tour Dates for the 2022 Summer Season:
13/07 La Note Bleue Monaco
15/07 Festival Les Musicales dans les Vignes / Domaine des Féraud ( Vidauban 83)
16/07 Festival Les Musicales dans les Vignes / Château de Sannes ( Sannes 84)
19/07 Festival Les Musicales dans les Vignes / Château Gassier ( Puyloubier 13)
21/07 Domaine des Hauts de Vaugrenier ( Villeneuve-Loubet 06)