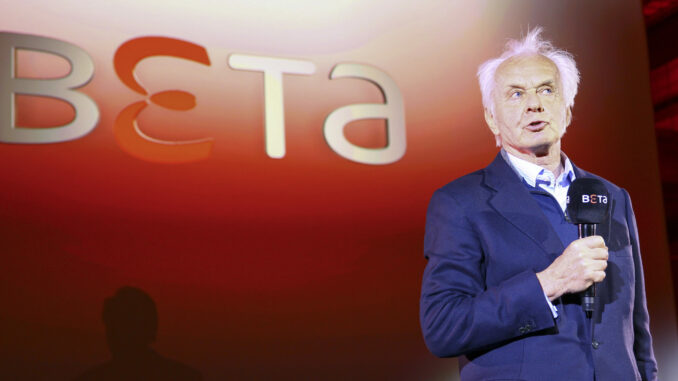 Teaming up with Dresen and producers Claudia Steffen and Christoph Friedel of Pandora Film Produktion, Beta Cinema are introducing the project to international distributors here in Cannes where Andreas Dresen was awarded the Prix Un Certain Regard in 2011 for his poignant drama Stopped on Track.
Dresen's latest work, Rabiye Kurnaz vs. George W. Bush took away two Silver Bears from the Berlinale 2022: Meltem Kaplan won for Best Leading Performance and Laila Stieler was awarded for Best Screenplay. Continuing their cooperation from Rabiye Kurnaz vs. George W. Bush and European Film Award nominated Gunderman, Laila Stieler has also written FROM HILDE, WITH LOVE (WT), investigating the life of a young woman from "Die Rote Kapelle", a name given by the Gestapo to an anti-Nazi resistance movement in Berlin. Judith Kaufmann, of current Un Certain Regard entry, Corsage, will be the DoP on the film scheduled to start principal photography in August 2022.
In Berlin 1942, Hilde Coppi finds her place within the resistance group as gradually as she falls in love with one of its members, Hans Coppi. With their lives being in constant danger, the two spend an unforgettable summer until they get caught by the Gestapo and Hilde is imprisoned, eight months pregnant. It's behind the bars that delicate young Hilde develops unimagined powers.
"FROM HILDE, WITH LOVE will be a modern drama set in a difficult time, plain and straightforward, joyful and strong, renouncing to heavy music, opulent production design or costumes, " says director Andreas Dresen. "Die Rote Kapelle was a loose network of several Berlin-based resistance movements, more than 150 opponents to the Nazi Regime, mainly women, all coming from different social backgrounds and adherents of different ideologies. One of them was Hilde Coppi. A prison warder noted in her file, 'Tender, fine, brave. Completely selfless. No hate. A touching personality. Never counted on human mercy. Never regretted.'"
Thorsten Ritter, EVP Acquisitions, Sales and Marketing says: "We couldn't be more honored to represent the new film by Andreas Dresen, a filmmaker we have been admiring for so long for his deeply honest, unpretentious but always emotionally charged work. This will be a historically well informed and powerful film, based on a true story that needs to be told today more than ever, when so many mechanisms of those dark times are put to use again."
Babylon Berlin's iconic lead actress Liv Lisa Fries will star in the leading role as Hilde.
FROM HILDE, WITH LOVE (WT) will be produced by Claudia Steffen and Christoph Friedel of Pandora Film Produktion Köln, in coproduction with rbb (Cooky Ziesche), Arte (Barbara Häbe), in association with Ziegler Film (Regina Ziegler), Iskremas (Andreas Dresen, Andreas Leusink), supported by DFFF, Medienboard, BKM, Film- und Medienstiftung NRW, FFA. Pandora Film Verleih will distribute in Germany, Filmcoopi in Switzerland.