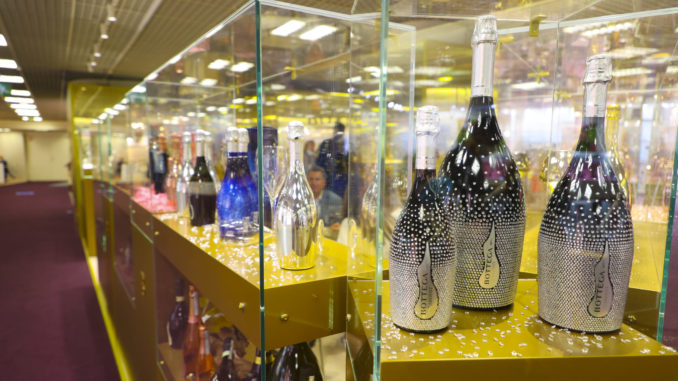 Il Vino dei Poeti Prosecco Doc Rosé Bottega is an innovative sparkling wine, which maintains the freshness and versatility of Prosecco. It is produced with a blend of Glera (85%) and Pinot Noir (15%). The grapes of the well-known international vine contribute to give this Prosecco its characteristic pink colour and greater aromatic complexity. This wine is characterised by a fine and persistent perlage. On the nose, the fruity hints of cherry and berries stand out with delicate floral notes in the finish. On the palate it is fresh, lively and pleasantly dry with a good aftertaste.
Bottega Pink Gold is a Prosecco Doc Rosé. It originates from a blend of Glera and Pinot Noir grapes grown in the Prosecco DOC area (northern Italy), which are cultivated according to classic and traditional techniques. Pink Gold Bottega is contained in a low and wide bottle with an unusual shape. The fresh, complex and fruity sparkling wine, together with the elegant Italian style bottle, also makes it an ideal gift.
Tiramisù is a creamy liqueur, pleasantly sweet and with a moderate alcohol content (17% vol), characterised by the unmistakable flavour of the well-known dessert. Tiramisù Bottega is made with a base of cream from the Alps and mascarpone cheese of Italian origin, to which egg yolk, cocoa (Santo Domingo origin), selected varieties of Arabica coffee (Ethiopia origin) and Savoiardo biscuits extract (gluten free) are added. The addition of sugar gives a touch of balanced sweetness to Tiramisù Bottega, and of course the alcohol – as well as being a natural preservative – gives the liqueur the right vigour, giving it a pleasant body, maintaining the creaminess and responding exactly to the taste characteristics of the original dessert. It is available in the traditional Bottega liqueur 50cl bottle.
Bottega 0 is a new category of products, available in two versions – Bottega 0 Rosé and Bottega 0 White – both in the traditional 75cl sparkling bottle. Non-alcoholic, they evoke the tradition of sparkling wines, keeping the freshness, liveliness, and charm of the bubbles, thanks to the skilful dosage of carbon dioxide, despite the zero-alcohol content.
Following the success of Gin Bacûr, produced in Italy using botanicals like juniper berries, sage and lemon zest, and pure water coming from the Alps, Bottega continues to promote the fine distillate contained in the original copper-coloured bottle. Bottega Gin Bacûr is available in five sizes: 5cl miniature bottle, 10cl (spray version), 50cl bottle, 70cl bottle, and 100cl bottle.