This summer, Diane Venet will exhibit her collection of artist's jewelry, a growing global reference.
over time and its encounters. This collection, including new items, will be available to discover from
July 11 to August 19, 2021 at the Grimaldi Forum Monaco.
Passionate about art, Diane Venet acquired her first artist's jewel, a brooch by the painter Roy
Lichtenstein, in New York in 1967. But it was his meeting with sculptor Bernar Venet in 1985 that
decides her to constitute, through discoveries and research, a collection dedicated to artist's jewelry.
Thirty years later, this collection consists of more than 200 pieces, small and precious works of art.
180 of them will be presented at the Grimaldi Forum.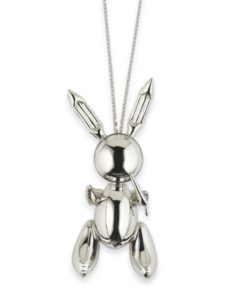 Picasso, Kapoor, Indiana, Koons, Braque, Lichtenstein, Saint Phalle, Haring, Bourgeois, Orlan, Vasarely,
Stella, Arman, Rauschenberg, César, Dalí, … many modern and contemporary artists from
from all over the world, will be exhibited in a route that will bring jewelry into resonance with
sculptures, drawings, photographs and filmed interviews. The infinitely small will join the
monumental. The great movements -Surrealist, Abstract Art, Pop Art, New Realists, Kinetic Art,
Minimal and Conceptual Art will be represented.
Goldsmiths, who made the practice of artist's jewelry possible by getting closer to the big names in
world of art in the 1950s, will also be honored, such as François Hugo and
GianCarlo Montebello who died last year and to whom Diane Venet wished to pay tribute in this
exposure.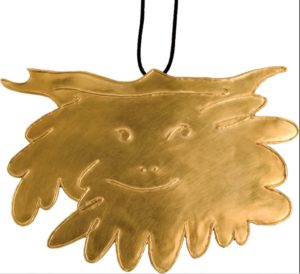 With the help of other collectors, the Diane Venet collection shows several aesthetics and
is open to artists of all generations, representatives of the international scene. It is enriched by
exceptional pieces to be shown for the first time, a necklace by Wang Keping, and many more
as well as jewelry specially created for her, most recently a necklace by the American artist Larry
Bell.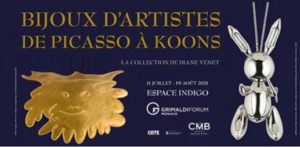 From July 11 to August 19 – Espace Indigo of the Grimaldi Forum Monaco, more Infos under:
www.grimaldiforum.com