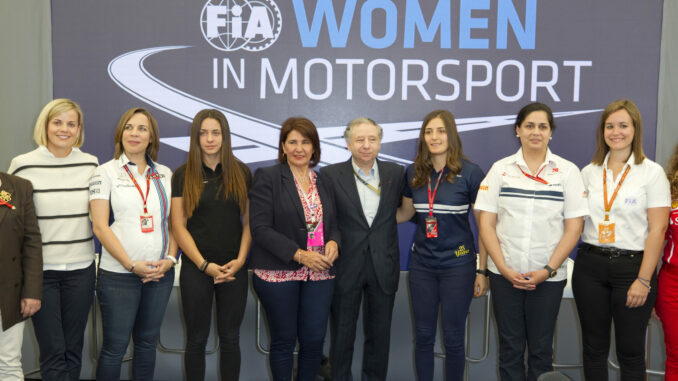 The FIA and its Women in Motorsport Commission will be supporting International Women's Day with a host of online activities leading up to March 8. Highlighting the roles and achievements of females in the sport, the Commission continues to underline its commitment to shaping a more equal future for women of all ages who choose to challenge and dare to be different.
The four finalists of the FIA Girls on Track – Rising Stars will take centre stage in the build up to #InternationalWomensDay, speaking about their passion for motor sport, their relentless drive to reach the highest levels and their once in a lifetime experience at the Ferrari Driver Academy.
Lizete Dos Santos, from the Kingdom of Eswatini, will host each of the four webinars. Lizete is passionate about sport, culture and underrepresented human stories and is currently studying for a masters degree in journalism and international affairs in Paris. She also plans to write her thesis on the inaugural year of FIA Girls on Track – Rising Stars.
Be sure to follow the FIA WIM Instagram account for these opening webinars, each at 18:00 hrs CET, as follows:
Monday March 1 – Doriane Pin
Tuesday March 2 – Julia Ayoub
Wednesday March 3 – Antonella Bassani, presented in English and Portuguese
Thursday March 4 – Maya Weug, winner of the FIA Girls on Track – Rising Stars and the first female to become a student at the Ferrari Driver Academy
On Friday 5 and Saturday March 6, the FIA WIM social media accounts will host video interviews with Juliana Neto and Michaela Cerruti, both of whom play important roles in the sport. Juliana, who is a physiotherapist and osteopath, will share her journey from being a youngster watching Formula One with her dad to being responsible for the human performance of the Honda Racing drivers in the FIA World Touring Car Cup.
In contrast, Michaela has a variety of strings to her bow, both on and off track as Operations Manager for Romeo Ferraris. After graduating with a degree in psychology, she took to the wheel where she claimed a race victory in 2011. Now, in addition to her full-time role at Romeo Ferraris, she is a television commentator, presenter and contributor to Italian automotive and motor sport magazines.
On Monday March 8, International Women's Day, the spotlight moves to the launch of the FIA Women in Motorsport Commission's latest career brochure, brought together with the help and support of the FIA World Touring Car Cup and its promoter, Eurosport Events. 'Women of WTCR' highlights the many and varied roles undertaken by inspirational women in the series who share an insight into their career paths and what their jobs entail.
In support of this year's UN Women, the United Nations entity dedicated to gender equality and empowerment of women, all these females are a symbol of its International Women's Day theme: 'Women in leadership: Achieving an equal future in a COVID-19 world'.
Rounding out the week of activities, an FIA WIM Facebook Live session will take place with Fiona Rees, FIA WTCR Teams Coordinator and Germany's Michelle Halder, whose 2021 target is to become the first female driver to race in the FIA World Touring Car Cup. An accomplished race winner in TCR Europe and ADAC TCR Germany, the 21 year old and older brother Mike are following their dream of racing alongside the best touring car drivers in the world for their family squad, Team Halder.